Weekend Countdown: Adventures in Heels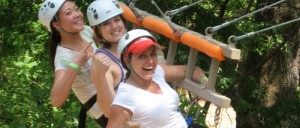 How's this for a girl's day out? "Adventures in Heels" gives women (and daring men) the chance to explore Historic Savage Mill in their favorite pair of pumps while completing games, puzzles, challenges and activities similar to those in the TV show The Amazing Race. Participants will compete for prizes and even get to do the Giant Swing. After the event, guests will return to Terrapin Adventures to indulge in delicious cheese, crackers, fresh fruit, chocolate and wine. Contestants can also win raffle prizes, donated by Savage Mill's own specialty merchants.
Terrapin Adventures is hosting this special event to benefit Success in Style, which is an organization that assists local women and men in finding employment, gaining confidence, and becoming self-sufficient.
January 24, 2015
2:00 pm to 5:00 pm
Terrapin Adventures
8600 Foundry Street
Savage, MD 20763
Click for more information
301-725-1313
$49; sign up with four or more and take $5 off.
The McKenna Group posts community events each week on Thursday: movies, wine tastings, entertainment, music, children's events, singles events, fitness competitions and events, yard sales and more. Contact us to share your event. #HoCoBlogs